Meet Our Team
Meet James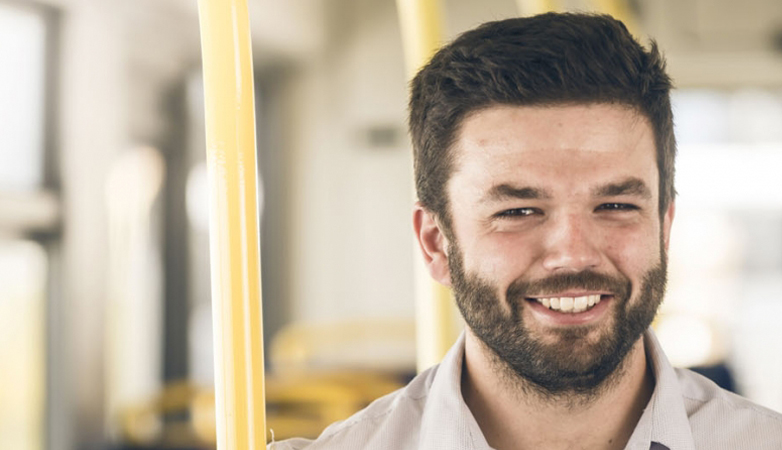 Tranzit Project Manager James Howard laughs when he recalls his first introduction to the company as a youngster.
"I used to catch the bus to Scotts College and frequented the Tranzit office picking up my lost property …. naturally, it was always my PE gear! he says.
But then in 2014, while studying for a Bachelor of Commerce at Victoria University, James was re-introduced to Tranzit when he began working 1 ½ days a week in the Rongotai Depot as a fuel and fleet assistant. In this role he oversaw the purchasing and processing of fuel for the company's then 700 vehicles and gained his P-endorsement license.
"That first job was a great introduction into the transport industry and complimented my studies however I just remember being horrified at how much money was spent on diesel and road user charges."
After graduating, James began working full time for Coachlines Wellington – in a mixture of sales and operations, the latter he describes as the "heart and soul of a business". This role gave him a thorough grounding and understanding of systems and held him in good stead to help a team set up the company's SESTA (Specialised School Transport Assistance which is a Ministry of Education transport service Tranzit is contracted to run) operations in Auckland.
"This particular role was eye-opening and quite challenging. It not only gave me a huge appreciation of what many families are going through in our community but also made me realize that they and our drivers delivering these services are our unsung heroes. There are moments from that experience I will never forget."
Shortly after this, James returned to Wellington and began to work on the company's Tender to deliver urban services for the Greater Wellington Regional Council which included introducing a fleet of 10 double deck electric buses (EVDDs). This exploration into electric vehicle technology was a continuation of the work Tranzit began in 2014 when the company partnered with Auckland University of Technology (AUT) to do a joint application to the Energy Efficiency & Conservation Authority's Low Emission Vehicles Contestable Fund. This was successful and lead to the development and build of New Zealand's first commercially operated 100% battery powered electric bus called EV1, which now services AUT's North-City Campus and South-City Campus bus routes.
The sheer volume of work was overwhelming, but the team's Tender was successful and months later Tranzurban was born, including an Australasian first - the roll out of 10 EVDD's.
James' work with the EVDDs alongside Keven Snelgrove and Daryn Murphy has seen him become an expert in the field and before the COVID-19 lockdown began, he regularly spoke and presented on behalf of Tranzit at industry events and conferences. He says it'[s really exciting to see the great IP (intellectual property) and IT here in New Zealand and be part of a company breaking new ground.
Meet Connor